Aphos Villier DeRaux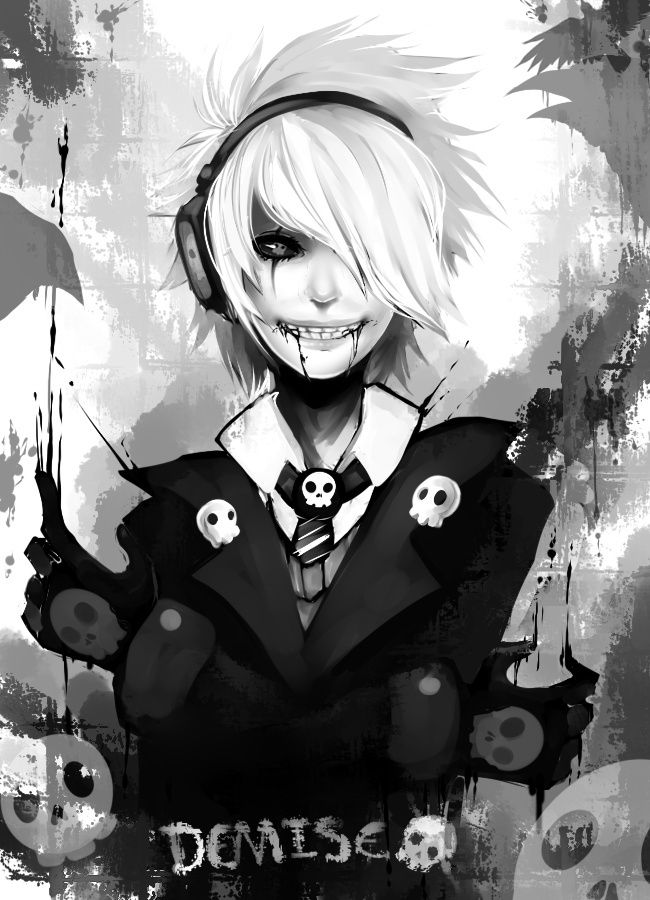 STATS
Strength -10
Speed -45
Luck -100
Perception -35
Imagination -25
Determination -1
HP = 200
Rank = 3
Race = Acendant Alkius (Essentialy a grim reaper that fucked up, got turned human, fucked up again, and got sent to hell....he fucked it up.)
ABILITIES
*Weak: "Bad luck friend."- Aphos causes the opponent's luck to plummet, leaving them tripping over errant objects (*cough* phalluses), falling down stairs, and having cigars explode in their faces. (ahem....)
*Medium: "A cinematic Masterpiece!"- Requiring aphos to concentrate and formulate for a time, as well as "Choosing his angles" The payoff for this move is immense, as large wounds open up all over one primary enemie's body, and, with a flourish, Aphos takes his "Snapshot" Sending a damaging shockwave from the primary to anything else around.
*Powerfull: "Fill em' with midnight"- Aphos takes momentary reposession of his scythe (which happens to, rather paradoxicaly be a tombstone shotgun.) And....simply decimates absolutely everything that dares to cross his path...that is, untill his semi-godly essence is ripped away again, leaving him far weakened.
PERKS:
*Camera-shy: Much to the chagrin of maxwell, Aphos is more or less impossible to record or find on any type of device or extrasensory perception. Either you see him with your eyes...or you dont see him. This gives him a bonus to staying hidden from enemies, and an immunity to mechanichal sights.
*Lucky bastard: Aphos tends to find important or expensive items, as well as hidden areas and such much eisier than others, the lucky bastard...
*Midnight Memories (2): Aphos's new-found imagination Has allowed him to forge his memories of safety into a cloak composed of black chains with scythe-shaped ends. These chains can extend and retract at will, as well as becoming prehensile with a bit of concentration. The chains automatically shield Aphos from (20 Imagination) minor damage.
*Griefer(2): Aphos can boost the damage of any attack by beating the enemy in a luck roll. This can be done multiple times untill he loses, but if he loses he also takes minor damage.
*FUN FACTS: Upon looking into the mind of certain powerful beings, Aphos' luck stat allows him to catch glimpses of hidden knowledge and ancient secrets. Small, whimsically determined chance to gain a Perk, Ability, or Upgrade based off of the affected target.
FATESPINNER: Not only is lady luck on your side, but you have married, bedded, and raised children with her. Bypass enemy criticals entirely. Always.
STRENGTHS:
* Aphos has an insane amount of luck, avoiding horrific death by inches constantly, and scooping up the spoils afterwards...
* Aphos is a smart talker who can often talk his way out of near any trouble.
* Aphos is very good at shooting people in the face...or the arms, or anywhere really, with large caliber guns....they almost remind him of his old friend midnight....the gun and bullet set that made him a terror as a grim reaper.
WEAKNESSES:
*Aphos is unmotivated and tends to completely ignore people telling him what he needs to do.
*Aphos is....well, partialy blind, he sees people's aura's, and/or electrical signals, but has trouble with things like walls...or he would if he werent so damn lucky. (But not anymore)
*Aphos experiences great amounts of discomfort in anything resembling cold...in fact, that was the only way that maxwell was eventually able to trap him in his pod, by deep freezing it, and removing any variable that could somehow luckily break him out....again...
ADDICTION(S:(
*Cyanide: Gives bonus to imagination and speed.
*[needed infrequently]Liquid Happiness (aka Demon Vodka:( You should never drink this. Why would you drink this? ...... Fine, imediately causes the perception and imagination stats to drop by five points, but alows for a random excelent event to happen.
INVENTORY:
*Deck of cards (wierd cards)
*Black-jack: A light shotgun with pump action, and a grudge....has a chance to do extra critical dmage on crit rolls.
*A small hoard of his favorite drugs....well, poisons really.
*A large golden coin.
*a pair of sad, sad, shattered perscription glasses....;_;
*Reaper's Timepiece: Go to kill-cam mode.
* GENERIC ANTIDEPRESSANT: Each pill has a 50/50 chance to grant either a permenant +1 to any stat of choice or trigger the "Blackbox Effect", which is a permenant -1 to that stat. Currently contains: 64 pills
Appearance: Go look at the picture.
Personality: Aphos is.... Aggrivating. A gambling addict with a large firearm always on hand, he is impulsive, greedy, sneaky, and will openly laugh at your failure. Apart from that hes a peach, just not really. He seems to have a bit of a fetish for blowing holes in things.
A little bit of history: Aphos was a grim reaper, he managed to fuck this up by killing a number of people he shouldnt have. He was send down to be human for a while as pennence....and managed to get shot by the police for killing people and running a gambling ring. Then he got to hell and got sent to a pod, broke out, and got in extra trouble for killing people and trying to gamble with arch-demons. The list goes on.
WON LOOT
* Eyes of Iuvart have been won by Aphos. In addition to giving him the gift of sight, he will be able to detect other Angels much faster than anyone else. Twice a day he will be able to look into someone's mind for any information he desires for 5 minutes at a time. Look, but look fast. If brought down to 1hp he gains "Paralyzing Glare".
OLIVIER'S SIGHT: Congrats on your new eyeball powers Aphos! When using this ability, your eyes will turn black and be covered in red designs (usually lacey or web-like, it's honestly up to you because they are your eyes now).
You are now able to form bonds with people - the amount of people you can bond with is based on your imagination stat. 1 person for every 10 points. They come with 10 points into imagination because they are literally made of the stuff.
Anyone who you have bonded with (and they can be un-bonded at will) is now your personal security cam. You can see through their eyes at any time, no matter where they are, and even force them to look around in any direction you choose.
Bonding with someone gives you Insight about that person, you can learn much about their personality and mental state - including powers and skills they may not even now they have.
THE MAD HAT: A hat that doubles perception. YUS!