MEDLEY
----
----
From Left to right: Bloom and Splice
----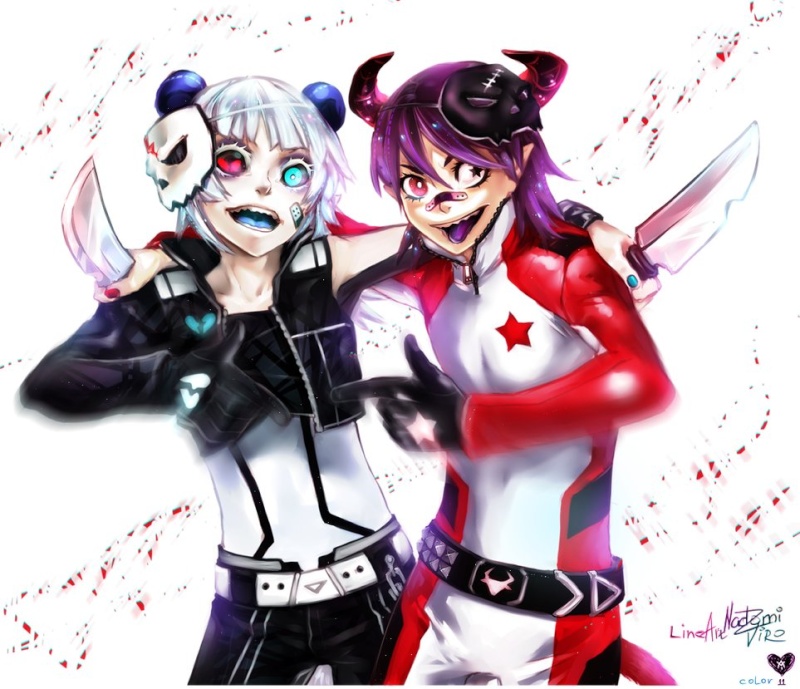 ----
From left to right: Citril and Kaiser
----
STATS (Bloom)
Strength - 90
Speed -2
Luck - 2
Perception -2
Imagination -2
Determination -2
HP = 70
Race = Primordial Bullfuckery
----
STATS (Splice)
Strength -2
Speed -2
Luck -2
Perception -2
Imagination -90
Determination -2
HP = 30
Race = Primordial Bullfuckery
----
STATS (Citril)
Strength - 2
Speed - 90
Luck -2
Perception -2
Imagination -2
Determination -2
HP = 20
Race = Primordial Bullfuckery
----
STATS (Kaiser)
Strength -2
Speed -2
Luck -2
Perception -2
Imagination -2
Determination - 90
HP = 80
Race = Primordial Bullfuckery
----
ABILITIES
Weak:
Bloom:
Lock Shock Rollin - Bloom emits high powered vibrations designed to have a stunning effect, and subsequently disturb enemy balance and awareness in an area.
Splice:
Scattered Thoughts - Splice sends out a pulse of blinding light that, upon contact with an enemy, temporarily switches what brain impulses control what body part.
Citril:
Treadmill Carefully - Citril causes a surface of his choosing to instantly redirect and amplify all motion in a certain direction. This can be used as a speed booster, or as a... deterrent.
Kaiser:
Wet Cement - Kaiser distorts energy in an area, causing personal time to dilate, thus massively slowing all movement for targets caught inside. Time will seem to be moving normally for those within the bubble, everything else will seem to be moving much more quickly.
------
Medium:
Shared:
Trifecta - A third body can enter the fray, with all the chaos that implies.
Bloom:
Equilibrium Echo - Bloom causes impacts in an area to be either entirely negated, or massively amplified.
Splice:
Bedlam - Splice causes things around her to come apart and reattach, while retaining their function. Don't be alarmed by if you see a random floating arm, or an enemy who temporarily has a chair as a head.
Citril:
Beware the Blender - Citril causes rotational momentum to go out of control for his enemies, turning any movement into an uncontrollable pirouette into the floor, or, if they are unlucky, a continual spin.
Kaiser:
Freeze Frame - Kaiser creates a 'save point' this can either be used as an instant restore for allies, or as a method of damage amplification, as damage stacks between saves on enemies.
Strong:
Shared:
Rhyme/Reason - Medley takes on its full form.
------
PERKS:
Shared -
*TAG TEAM: Any of Medley's bodies can switch places with each-other instantly, and either body can switch to another form in the same time-span This applies also to status effects, damage and other qualities that would be experienced by one or more of Medley's forms.
Bloom:
*Dampen/Overload - When Bloom encounters an impact she can choose to deflect or store a portion of its energy. This portion scales with her strength. She can then release this energy as either kinetic thermal or ionic energy.
* Dynamo - When Medley uses an ability, Bloom gains a stacking +5 to her speed until combat ends.
Splice:
* In stitches - Splice cannot be harmed by sharp or cutting attacks, simply slitting along a 'seam' where she would be damaged. This provides no immunity to impact.
* Marionette Maestro - Objects or people Splice is touching may benefit from her 'In Stitches' perk should she wish it.
Citril:
* Whirling Dervish - Opponents who are slower than Citril get a flat -5 decrease to all rolls that would target him.
* Frictive Function - Every time Medley uses an ability, Citril gets a stacking +5 buff to his strength until the end of combat.
Kaiser:
* Too Tank - Kaiser gains a health bonus equal to half the current health of any other active body.
* Immovable object - Kaiser is unaffected by time control effects, speed debuffs, and other movement-affecting statuses.
Personality:
Bloom - Bloom is uncomfortably cuddly and affectionate for someone so sharp. Luckily, at least some of that is retractable. She is a realist, and surprisingly, also an optimist, but will take absolutely zero shit from anyone that is not also Medley. Even then she is doesn't put up with much. She is the primary force helping keep medley safe and happy, while also enjoying the chaos of battle. She is the guard.
Splice - Splice is a researcher at heart. She loves to learn things, even if those things tend to be detrimental to her well-being. She may seem shy, but usually this is a side effect of her absolute refusal to small-talk. She will however lecture at length about any subject one desires. She is a very good listener, and is the decision-maker.
Citril - Citril moves very quickly. This applies to physical movement, and to thought processes. Citril will often move so quickly through a conversation that the only people who can understand what he is talking about are the people who are literally also him. He processes more information in moments than most can given hours, which makes him prone to very short bouts of very intense emotion. He is the initiator.
Kaiser - Kaiser is exceedingly understanding, and tends to act as a balance to the other parts of Medley who tend to be, for lack of a better word, self-centered. He is the person most responsible for interacting with other beings, as well as shielding the rest of Medley from the inevitable fallout they cause. He is excitable, personable, and by far the most level of the group, despite his more than passing resemblance to a classical demon. He is the conduit.