Hinabara Itomusou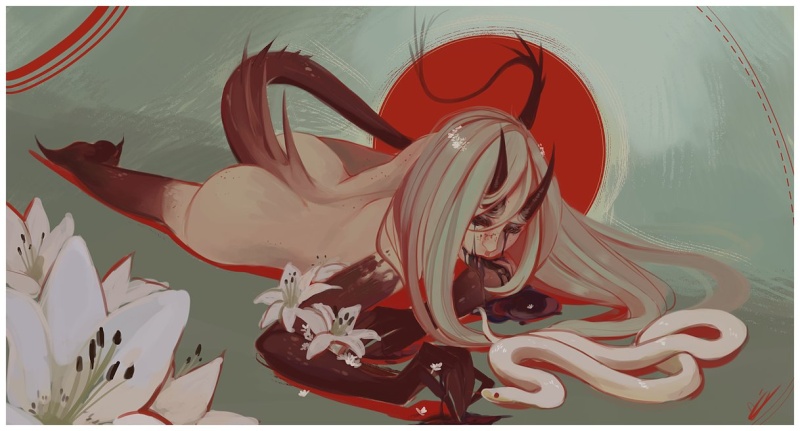 STATS
Strength - 30
Speed - 85
Luck - 0
Perception - 20
Imagination - 20
Determination - 100
HP = [10]
Rank = Recruit
Race = Hina is a Kowareta or 'broken one', formerly a spirit of the major house of Kami, the Kowareta were avatars of bloodshed, but also, paradoxically, of eternity. After their influence began to break apart both the realm which they inhabited, and the realm of humanity the Kowareta were ripped from reality by the unnamed lord, who presides over all things. In their passing they left a great scar upon him, which he carries to this day. Stripped of their beings, the Kowareta wandered the infinite nothing, until one by one, they found places to rest. Some chose the realms of death, others became great mountains, and a small few found their way into a place of primordial heat and fury, and there they slept, until one day one awoke.
ABILITIES:
* La Brea Surprise: Hina exudes a great flow of tar-like blood, which hardens, quickly encasing her target, (or an area) in sticky, vice-tight layers of unpleasantness.
* Aria of Agony: Hina dissolves herself into a virulent blood-plague, which, should it infect an enemy, causes them to become rapturously happy an cooperative, right before they dissolve into sludge, and Hina reconstructs herself from their remains.
* The Mark of Betrayal: Hina's true form reveals itself. Her bite means not death but emptiness, whatever form It may come in.
PERKS:
* Effigy - Unless her snake form's head is destroyed, Hina will continue to regenerate indefinitely, although taking enough damage in a short period will make her grow gradually smaller and more childlike in appearance.
* This Won't Hurt a Bit - Hina feels no pain, which can make her rather clumsy, but also entirely immune to pain based debuffs and such.
* Shed Skin - Hina Can 'shed' conditions and debuffs, as well as literally shedding her skin whenever she feels the need.
* Striking - Hina gets attacks of opportunity on enemies who roll lower than her initiative roll, and gets a bonus to any twitch muscle action.
* Snake Eyes - Hina can allow anyone in her vicinity to re-roll a critical hit or failure.
STRENGTHS:
* Very very difficult to kill.
* Seems to give those around her good luck.
* Is an awesome snake with a bite that can destroy people's minds.
* Is cuddly.
WEAKNESSES:
* Get's cold easily, and begins to lose energy in such scenarios.
* Fairly easy to kill if her true form is involved.
* Clumsy.
ADDICTION(S):
* Bananas - No stat bonus, but really likes them.
INVENTORY:
* Not really. Uses Corey's
Appearance:
As above, though occasionally with the addition of clothes when people put clothes on her.
Personality:
Hina is curious and hungry in equal measures. While she is extremely intelligent, she is not used to the way things work in hell. So far she has found people she enjoys, and has decided to follow them around and protect them. She likes them because they are warm, and also a lot more pleasant than the vast ritualized beings of the high house.
Here, she can just enjoy a goddamned banana and kill things sometimes. She likes it.