Name: Neo (Birth name Jessica)
Age: 19
Gender: Female
Personality: Smart as a whip, cocky as a rooster, and reckless as a bull. Neo has the Mallark gift of being a quick learner, but that doesn't mean she takes learned lessons to heart. The only lesson that has ever mattered to her was "Trust no one." Both of her parents were "arrested" quite some time ago, putting her in charge of Mya and Tiern. Neo joined /error for revenge (and freedom - but mostly revenge).
Appearance: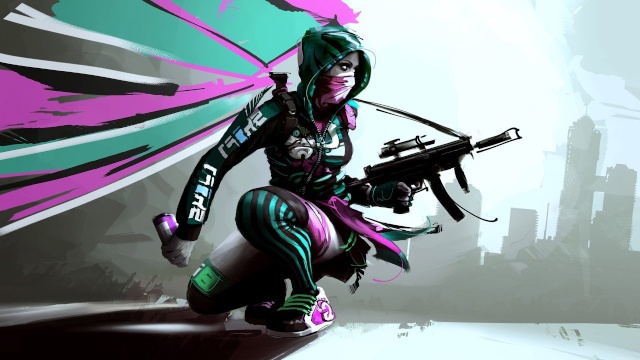 Skills: Once Neo is out of your immediate line of sight, she's gone. She's a pro at hiding - mostly because her hobbies are parkour and being a contortionist. Aside from that, she's a hell of an artist with spray paint. You might have seen her work in places where it really seems someone should have seen/caught her painting. It's hard to miss - she only uses neon colors.
Modifications: Black market flex mods.
Tech: Compact SMG, bio-mesh clothing.