Name: Rex Brandt
Age: 17
Gender: Male
Type: Weapon
Appearance: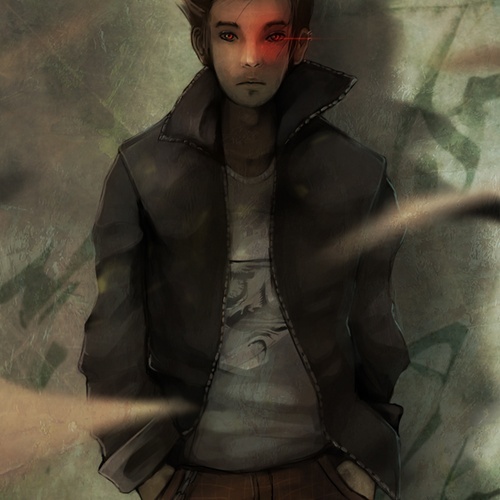 Personality: Rex has always been dangerously close to being the stereotypical "loner boy". This isn't because he's the dark, brooding type - he just doesn't have much to say on the matter, regardless of what the matter is. Rex's best friends are his pencil and his sketchbook, though Dallas constantly tells him that everyone would love him if he would just talk to them. Rex agrees wholeheartedly with this sentiment. He just also refuses to do anything about it.
Pretty private. Rex doesn't much care for sharing his life's story - not only is it not very exciting, he doesn't think it's all that important to anybody. It can be difficult to earn his trust, but once you've earned it...well he wishes he could say it's forever, but it's not. Once earned, it's your job not to prove him wrong.
He's rather modest, though he doesn't put himself down unless he truly dislikes what he's done. Which isn't often. He knows there's always room for improvement, but that doesn't stop him from enjoying what he's already accomplished.
His lack of trust in most people and his dislike of sharing information about his life has lead to problems in the past. Mostly because if he's planning on doing something drastic and/or stupid, nobody knows about it until last minute. Or until he's already begun, if Dallas isn't paying attention. It's also lead to his famous "moods". Long periods of time where he'll just be agitated by everything and shut himself away in his room for days at a time (unless he has to go to class - that involves a hood pulled up high and cold silence to everyone). Violence against those who persist in their efforts to interact with him is not uncommon.
These moods never bother Dallas, it seems. In fact, he's the only one to successfully avoid being belted in the gut by Rex during these moods.
Skills: Drawing, listening, good reflexes.
Abilities/Powers:
-------------- If the below fields do not apply, delete everything below the dotted line - -----------------------
Weapon: