Name: Grace Bastille
Titles: Rocketeer
Age: 19
Gender: Female
Appearance: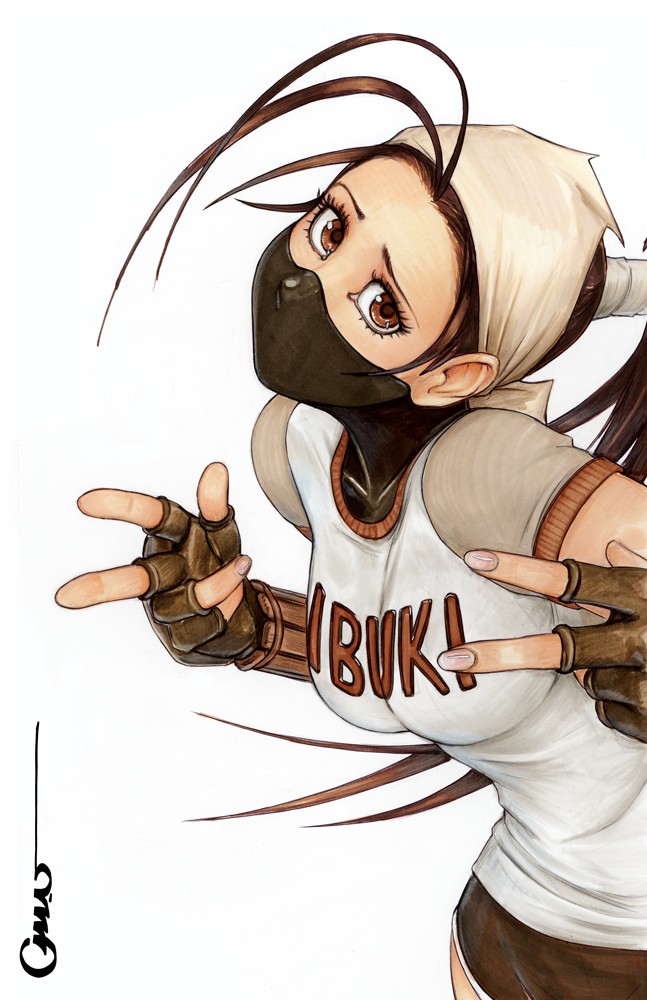 Personality: If you met Grace on the street, you would likely not even notice her, an average, even shy girl; likely with her face buried in a book or kindle screen. In her daily life, Grace has very little time or patience for other people, a side effect of her rather severe antisocial tendencies. Unlike many people who tend not to like others, Grace did not go the rout of making herself spiky and intimidating, but instead decided to completely ignore the world until it went away. Her approach has mostly worked. She only interacts with a few chosen individuals, and occasionally the government when they begin complaining about taxes. She holds a steady mid-level job at home with a software development firm, and feels the need for very little else. That is, until she puts on her mask.
If you met Rocketeer on the street, you had better hope that you don't look like you might ever possibly have considered doing something illegal and/or annoying in your entire life. You are very likely to notice Rocketeer as she will shout very loudly at you if she feels you are doing something problematic. In her daily life, rocketeer has very little time or patience for due process and will punch you a great deal for fairly minor offenses, a side effect of her complete inability to give a fuck. Unlike many people who punch others, Rocketeer does not go the rout of representing an organization or a mood, but rather, she attempts to represent the loose concept of "Justice". Her approach works as far as she is concerned. She assaults a large volume of people, including government officials sometimes, because she does not like taxes. She holds the position of "Superhero" though that is incredibly debatable.
In truth, Grace has created her alter-ego for two reasons; one, she is an obsessive comic collector, who figures that if you have superpowers, you would be a moron not to use them, and two, she is massively massively repressed in her day to day life, and it is easier to get away with beating people up if they don't know who you are. In an age when almost every person with powers chooses to simply adapt them into their day to day lives, Grace is one of the few (perhaps stupid) people who have decided to try to uphold the comic-book ideal.
Natural Abilities: Grace has always had a way with both language and technology. Aside from that, she has a quite good grasp of the physical sciences... honestly, she is just a gigantic science geek in general, which only sometimes makes her angry now that the laws of physics have pretty much gone and fucked themselves in their collective asshole.
Power(s): Grace's body density and durability is extremely high, primarily to brace her against her own abilities. Grace has eighteen openings in her body from which she can project force, either steady, or in bursts. She is not in very good control of just how that happens however as of yet. The ports are as follows. One on the palm of each of her hands, one on the sole of each foot, one on each elbow, one on each knee, one on the back of each calf, four down her spine, one on the front of each shoulder, and one on the back of each shoulder.
History: Grace came from a less than happy family life. Her early life was spent either reading books, or dodging her perpetually drunk, high, and often abusive parents. They barely ever managed to actually get her to school, but with her thirst to learn, grace turned to literature, something that shaped a great deal of who she would become. For ten years she lived in a household of nearly constant fear, bottling up the fury she felt towards her housemates, and then, suddenly, a whole bunch of men in black body armor came and raided her house. She was taken to a large building where a bunch of people yelled at her, and then she was released into the care of a psychologist, who asked her a few questions about if she knew what cocaine was, and if she understood how much of it her parents had. The answer to these questions was a definitive "No" followed by a "can I have my book back please, the hobbit is my favorite." Eventually, the man she was speaking to agreed that she could have the hobbit back, and, in an act of kindness almost completely foreign to her, he gave grace a few comic books to read to as she was going to be there "For a few days."
The next couple of months were a jumble of investigation, and obsession for Grace, who found that she not only liked comic books, but found them to be a higher form of art. this was the backdrop to the two month long investigation, that led to the dismantling of a major cartel.
At the end, the idea of normal foster care was shot down for Grace, and she was bundled away into protective custody. She was encouraged not to interact with others, a request she was only to happy to oblige. Interacting with others had never led to anything all that positive for her.
after four years, she was released from protective custody into foster care. Her foster parents were kind, but worried about her mental health after she had been through so much. In a sense they were right to worry. Grace's interpretation of the world was incredibly odd, filtered as it was through the lens of fiction and trauma.
In time, her new guardians managed to entice her into making some new friends at school. It went fairly well, except that grace was much more interested in her own thoughts compared to those of others. she could be friendly, and go through the motions, but for a fourteen year old, that really wasn't quite sufficient.
There really wasn't much to be done, it wasn't as though Grace was doing badly in school, indeed she was nearly a straight A student; no, she just didn't seem interested in humanity. She loved her new foster parents in a sort of detached way, but when it came time to leave, as she turned eighteen, she had very few regrets. Graduating from college two years early, Grace settled down, and made a nice little existence for herself, right up until the red sun crashed her party.
Grace was initially absolutely terrified when she began to change. Unlike most of the population who had external abilities, Grace's body itself was changing. The first thing she noticed was that she was suddenly much more durable. This hit home after she fell down an entire flight of stairs, landed on her head, and felt pretty much fine afterwards. As days turned into weeks, tiny holes began to open in the centers of her palms, and, on further inspection, the soles of her feet. They didn't hurt, but she found it damned weird. so did the hospital she went to. After a few less than comfortable days, Grace had manged to catalog the insane things that were happening to her, including the development of exactly eighteen "Ports" in her body. She decided not to call them holes because frankly that was too much innuendo for anyone to handle. She had just about managed to get used to the idea of looking like she had pencil sharpeners on her elbows when she got a leg cramp, and blasted herself across her room, smashing with what would normally be lethal force, into the wall. She also needed a new pair of socks.
Grace became incredibly depressed for several days about how other people had gotten super-strength and psychokinesis and stuff, yet it appeared that the red sun was turning her into an involuntary human projectile. There were several more accidents, most thankfully in private, which led to several trips to the pharmacy for band-aids and asprin. It seemed that rocketing into brick walls would not kill her, but that didn't stop it from sucking.
Then, one day, Grace was mugged. Well, there was an attempted mugging. As she looked down at the knocked out form of the would-be mugger, grace felt a satisfaction that she had really never experienced. One blast, accidental yes, but driven by instinct, and the man had been laid out completely. Suddenly, it occurred to Grace. Yes, she had a sort of shitty power, but goddamn it, she was a superhero!
From that point on, a new force for....kind of justice if you look at it a certain way, walked the streets. Lately, Grace has been experimenting with attempting to more precisely control her power, and, to her delight, she had been able to sort of slowly float. It's wasn't flight yet, but hell with it. She branded herself 'Rocketeer' and renewed her resolve to kick some ass. Her choice of battles leaves some room for improvement, but hey, at least she's trying.