[But Scarecrow, I'm still alive...]
-----------------
Basics
-----------------
Name: Eli Valentine
Age: 27
Gender: Male
Occupation: Body modification specialist
Personality: Mothers warn their children to stay away from Eli. This is probably for the best, since he both despises children and is not above hissing loudly at them to make them cry and/or run away. He isn't actually a particularly awful person, but he likes to perpetuate the idea that he is.
Eli is not, by any means, a people person. He doesn't understand social cues, doesn't like being patient or tolerant, and isn't fond of being nice for the sake of being nice - particularly if it inconveniences him to do so. And he does become easily frustrated when forced to interact with people. This does not apply, however, to anyone he deems to be "like him". That meaning someone who has a lot of piercings, tattoos, likes heavy metal/hardcore music, etc. etc.
Much of Eli's personality is actually fairly circumstantial. When uncomfortable, he tends to be explosive and difficult to reason with. When in the presence of people he likes or can relate to, he becomes much more relaxed and could easily be mistaken for a kind man. Notorious for being clever and "back-dooring" his problems. A large part of his humor is based on sarcasm that only intelligent people are actually going to understand.
Mischievous. That's the word I'm looking for.
Appearance: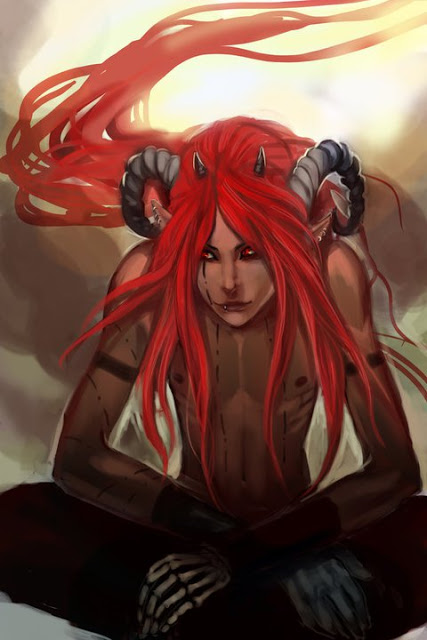 -----------------
Will Profile
-----------------
Name: Calcatrix
Stage: Hatched
Form: Two sets of horns. One smaller set atop his head and two larger, curled horns on each side.
Personality: [If applicable. If not; N/A]
Traits:
Spoiler:
----------------
Combat
-----------------
Wielder skills: Eli is the master of foul play. If he can trip you up or get a nutshot in, he will. All is fair in his love for war. Thanks to his thin frame, Eli has the added advantage of speed and agility when fighting up close.
Will Skills: Calcatrix causes Eli's bone structure to be incredibly strong, making it very difficult to actually cause him damage.
-----------------
Background
-----------------
Knowledge base: John Dies At The End, Dungeons and Dragons, Music (Grunge, Industrial, Metal, Nu-Metal)
Infection type: [N/A if none.]
History: There's nothing really fantastic about his past...Middle-class family, parents that left him to do his own thing most of the time, moved around a lot, learned that people were unpleasant, met a guy with a lot of facial piercings, decided he was gonna do that one day, did that one day. That's about it.
-----------------
[Who sewed me back together to watch the whole world writhe?]