PHOENIX OLIVER CARRAN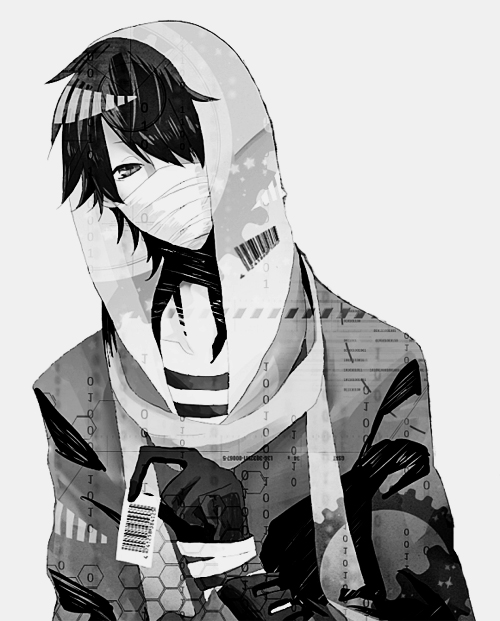 Hang on or be humbled again.
STATS
Strength - 0
Speed - 37
Luck - 80
Perception - 15
Imagination - 100
Determination - 0
HP = 50
Rank = Rookie
Race = Glassborn
ABILITIES
• Road Spikes - The best part about being able to summon blades is that you can sometimes suddenly summon them in a row behind you whilst running down a hallway to deter unwanted individuals from following too closely.
• Every Rose… - Once upon a time, Phoenix had a very unique set of Glassborn blades. Rather than swords, he had a little entourage of throwing knives. Rather than the standard six he had twelve. Although Maxwell confiscated them upon his arrival to Hell, Phoenix is still able to summon his blades to himself. It should be noted that these blades are loyal and cannot be wielded by anyone but him.
• Knife Party - What unusual weather we're having. It's completely unreasonable.
PERKS:
• Telepathy - Having lost his tongue twice (once in life, again in death), he's learned to speak through telepathy instead.
• Flight - When his blades are all present, he can "fly" so to speak.
• Accelerated Healing - With a maxed out imagination stat, he can heal most non-fatal wounds fairly rapidly.
STRENGTHS:
• Willing to listen to reason.
• Excellent at using his terrain to his advantage.
WEAKNESSES:
• Very squishy.
• In terms of raw physical strength, he's a fucking noodle.
ADDICTION(S:(
• Air. Yes, air. Fresh air. Not recycled, dusty, nasty Hell air, but fresh air from the surface. He gets it from Reapers that frequent the surface. If he's really lucky, he can actually get his hands on some Cloud from the Fall.
INVENTORY:
• Well, the thing about a maxed imagination stat is this…
• No.
• The world is your inventory.
• Take a building with you.
• Welcome to Animal Crossing bitch.
• Is that a couch in your pocket or are you just happy to see me?
• Oh god it's a couch.
• Damn.
Personality: He breaks things a lot, and he doesn't really mean to...It just sort of happens. That's under control now, of course, because he doesn't have a tongue any more. He kind of figures he deserves it...He broke the Looking Glass and destroyed an entire city. It rained people for 18 days. But it's not so bad...No, he kind of likes telepathy better any way. Nobody expects him to actually talk or answer them.