PROFILE BEGINS HERE
---------------------------- 
Full Name: Tyler Wesley Katz 
Designation: Envy [Supervisor's note: I have to hand it to babel, this is quite an interesting name gimmick for this pod.] 
Age: 18 
Gender: Male 
Title: Thief of Blood 
Known Abilities: Subject Envy has incredible social skills. He seems to able to pacify most any argument. It should be noted that he is also capable of starting massive arguments. [Possibly look into use as a pacification unit in future?] [Supervisor's note: Not a bad idea I suppose, but i contest that the staff meetings would be just as good a place.] {That had better have been a joke Supervisor.} [Supervisor's note: ah, yes, appologies great one, i wasn't aware you read these reports.] {I read everything, do not test me.} [Supervisor's note: Understood.] 
Personality Profile: Uh...Well, I don't really talk much. I don't really like people. I keep to myself in school and stuff. I never really leave the house unless I have to. [After a long period of silence, subject is prompted] Ow, [expletive removed]! What was that for? Jesus...What else do you want me to say? I have a small group of friends, um...I'm usually playing peace keeper…I like music, dubstep mostly...I don't like people...I said that already, didn't I? People always say they like being around me and stuff, but I'm just not a social person. 
Appearance: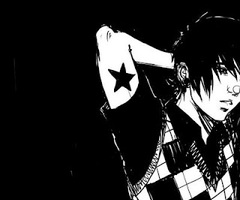 Pre-Titan Occupation: Student 
Skills: Again, incredible social skills, although he doesn't seem to use them often. Claims to be the "Lord of Bass Drops". 
----------------------------- 
Notes: Well, Assuming he is working alone, i'm not very concerned about his abilaties. Certainly he could be a usefull tool depending on the circumstances, but seeing as his first round is slated to be against Kindness, i imagine he will be at least a bit, well...broken for a while.[Should i switch the roster?] [Supervisor's note: Oh by the overseers no! This should be incredibly interesting to watch.]