James Gregory Yorke
(aka Jimmy)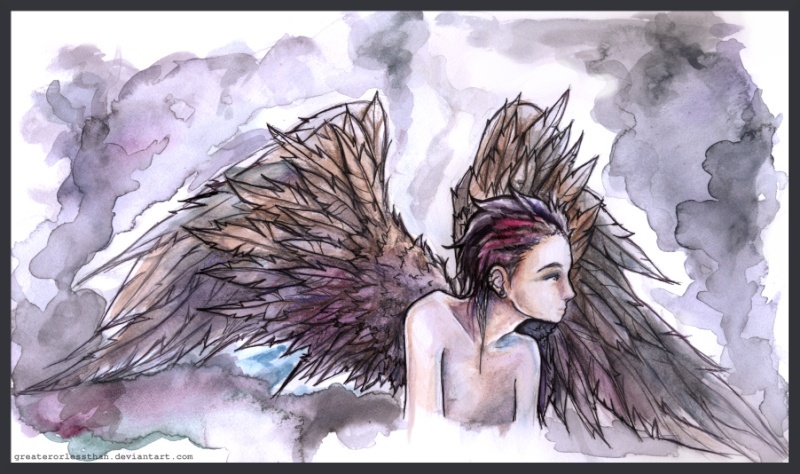 STATS
Strength - 5
Speed - 20
Luck - 8
Perception - 5
Imagination - 25
Determination - 8
HP = 120
Rank = Rank 2
Race = Angel Minion (Very very weak Angels, but not very powerful at all)
ABILITIES
* OLLIE OUTIE - Electricity is kind of his thing. His weakest ability is the ability to coat the bottom of his feet with electricity, allowing him to sort of...ski away from enemies and their attacks.
* SERVITUDE - Now that James serves under Aphos' name, he is...different. On Aphos' command, James gains wings of black shadow and summons a spectral snake made of chains which can bind and electrocute enemies.
* BUZZKILL - A quick, to the point attack that can do a lot of damage or a little, depending on how long he charges it for. Basically he mage-style wields electricity with which he can strike an enemy. This can do anything from slightly zap to MILDLY fry an enemy.
Charge level:
1- Slight zap, chance to stun. 8 base damage. No dodge penalty.
2- More severe, chance to stun increases by 2. 14 base damage. -5 dodge penalty.
3- Chance to reduce enemy's speed stat, chance to stun. 18 base damage. -6 dodge penalty.
4- Chance to reduce enemy's determination stat, chance to stun increase by 2. 22 base damage. -7 dodge penalty.
5- 25 base damage, 100% chance to stun. -10 dodge penalty.
* BZZT - Mother. Fucking. Lightning death orgy.
PERKS:
* Technopath - Can manipulate most digital devices, assuming he can get Maxwell to deactivate the knock-out collar.
* Static - It can be incredibly difficult to see him on any type of recording device as he tends to...interfere with them.
* Short Circuit - Can cause lights and digital devices to malfunction to a certain degree, although it does take it's toll on him the longer he uses it for.
* FEEDBACK: Critical hits landed on James will cause a small shockwave of energy to strike the offending party's Perception and Determination stats directly, reducing them by 5 until the battle is over. This stacks.
STRENGTHS:
* A natural born conman.
* Incredibly indifferent.
* Stubborn.
* Can think quickly and act even quicker
WEAKNESSES:
* Headstrong
* Kind of lazy (half-asses way too many of the things)
* Not very loyal
ADDICTION(S:(
* Cocaine (+4 Determination for 5 turns, +1 Perception for 5 turns)
-Cravings: Determination -4, Perception -4 until satisfied.
INVENTORY:
* A single Void Box (Kind of a portable inventory given to all mob members. A rubix-cube sized thing that hangs at his belt by a chain.)
Contains:
- 1 Assault Rifle
- 1 pocket watch
- 2 eight balls
- A cell phone that only works on the Angel Network of the Improbable Mansion
* 1 Knockout Collar
* 1 pen
* 1 pack of gum (5 pieces currently)
* MICHAEL'S SWORD: Base 25 Physical Damage
abilities:
Appearance:
Height: 5'11''
Build: Extremely thin, kind of awkward
Eyes: Burnt orange
Hair: In a mohawk at all times. Color depends on what dye he's using that day/week/month.
Skin: Pale. Self-described "Gamer Tan"
General Apparel: Eccentric. Assuming he's wearing a shirt at all, it would be tight fitting and probably include mesh somewhere. Either tight split-leg jeans or cargo pants, depending on his mood. Almost always in boots. Fingerless gloves and sharpie-tattoos are a regular thing.
Personality: Quick to act, almost always cheerful, deceptively intelligent and empathetic. Although he appears to be a scatter-brained weird ass punk, Jimmy is incredibly smart and collected. He likes to be a scatter-brained weird ass punk...It's fun to him. He has an eternity to live, why waste it on being serious? Although he's had a very rough past, he doesn't complain about it. In his own opinion, everyone has their problems and he doesn't see why his are any worse than anyone else's, so he doesn't dwell on them. "All those people that fucked you over? Made you cry, hurt, depressed, angry, etc.? Yeah they don't remember you. They forgot a long time ago. Every time you re-live that shit, you're just hurting yourself. They don't care anymore. They probably didn't care then. So what the fuck are you doing? You're doing the same thing they did to you. So if you want it to stop, then stop. Simple. Just fucking stop."
A little bit of history: Having died a rather painful death after a life of being a religion-scarred sinner, it was determined that a lot of ironic hellish pain could be inflicted on Jimmy simply by making him an Angel (a stupid move made while Maxwell was presumably under the influence). His abilities spiralled out of control as an Angel and it was quickly determined that he was an actual threat. Imprisoned in a large wooden box for the ruckus he had caused, Jimmy was released twice by fellow Angels, the second time successfully sneaking back to the Improbable Mansion. He worked with the Archangels for a good 7-8 years, during which he broke out repeatedly and was at one point fitted with a knockout collar to discourage him from being reckless. He did not learn. Imprisoned one last time and now on the bad side of most of the mob, Jimmy has remained in a wooden box pod for quite some...until now. Because this needs to be an inside job.